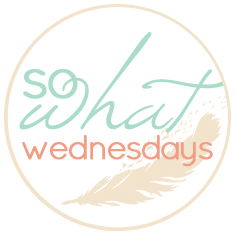 This week I am saying SO WHAT IF…
…I can not stop thinking about vacation. It is three days away, and we even made a paper chain! I think it may be for me, not Molly!
… I
just want to shop online to see how much cash back I can get from
Ebates
. Yup, I'm nuts!
…I
am super excited for the Online Clearance Sale Thirty-One is having tomorrow! If you are interested,
CONTACT ME
with only your e-mail, and I will put you on the mailing list! You can order past items and retired items for cheap!!
…I am SO OVER the heat and humidity! I say this in the winter too, so i feel kind of bad…but 100+ is ridiculous (although I can not compare because all you ladies that live in the Midwest got hit crazy hard with the heat!)
…I am still SO sad about Cory Montieth from Glee. Poor guy had so many issues, I will miss him on the show!!
…I'm so excited I got some press and seal wrap, zip-lock containers, and plastic cups on clearance at Target this morning!! 3 containers for 1.45, not bad!!
What are you saying So What to today?