So What Wednesday! It's My Birthday Edition!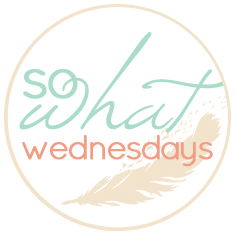 Today I'm saying So What if...
...Its my birthday TODAY! and I am so excited! I mean, who doesn't get excited for their birthday! Woohoo! Happy Birthday to
Brandy
too!!
...If I went to bed at 9:30 last night. It was awesome!
...If I'm SO over Molly having tantrums. I mean so ridiculously OVER it!! ( I told her today I was going to cry because it's my birthday!)
...That I CAN NOT wait for vacation, like CAN NOT! We leave in a little over a week, and I'm ready!! I will be disconnected for the most part, and I just can't wait to relax on the beach (as much as I can) and eat some seafood!
...If I think I only want to have one child. I go back and forth but today I'm absolutely one and done!
...If I'm obsessed with RHOC, who watched Monday night? I just love this group of woman! Re-cap to come!
Have a wonderful Wednesday!